Some Rise by Sin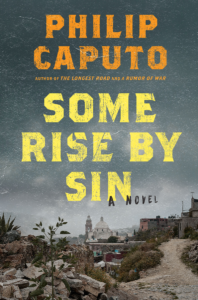 Published by Henry Holt and Co., May 2017.
The Mexican village of San Patricio is being menaced by a bizarre, cultish drug cartel infamous for its brutality. As the townspeople try to defend themselves by forming a vigilante group, the Mexican army and police have their own ways of fighting back. Into this volatile mix of forces for good and evil (and sometimes both) steps an unlikely broker for peace: Timothy Riordan, an American missionary priest who must decide whether to betray his vows to stop the unspeakable violence and help the people he has pledged to protect. 
Riordan's fellow expatriate Lisette Moreno serves the region in a different way, as a doctor who makes "house calls" to impoverished settlements, advocating modern medicine to a traditional society wary of outsiders. To gain acceptance, she must keep secret her rocky love affair with artist Pamela Childress, whose troubled emotions lead Moreno to question their relationship.

Together, Lisette and Riordan tend to their community. But when Riordan oversteps the bounds of his position, his personal crisis echoes the impossible choices facing a Mexican nation beset by instability and bloodshed.

Based on actual events, propelled by moral conflict, and animated by a keen and discerning sensibility, Some Rise by Sin demonstrates yet again Philip Caputo's generous and soulful gifts as a storyteller.




---
---
Prepublication Reviews

Starred Review, Feb. 15, 2017. Father Timothy Riordan, a motorcycle-riding Franciscan friar, shepherds the flock in San Patricio, a small Sonoran town caught in the crossfire between La Mariposa, a drug lord and self-styled religious leader who heads the terrifying narcotics gang La Fraternidad, and a priest-hating, possibly psychopathic army captain advised by a corrupt policeman. When Riordan is asked to reveal secrets from the confessional to help flush out narcos, he refuses—until he thinks he sees an opportunity to serve the greater good. But in a time and place where even routine encounters can turn suddenly deadly, consequences are difficult to anticipate. Free-clinic doctor Lizette Moreno, who is nonreligiously called to serve the poor, faces her own difficult choices of love and service, wondering whether she makes a difference. Pulitzer-winner Caputo returns to the world of his last novel, Crossers (2009), writing about the complex and chaotic border zone with a reporter's eye and novelist's heart; few settings provide such depressing but rich fodder for an exploration of faith and morality. An old-fashioned novel in the best way, a work of genuine heft, Some Rise by Sin explores the search for meaning in a place where the stakes are highest and does so with unwavering focus. At 75, Caputo remains a master of his craft.
---