10,000 Days of Thunder
"In this truly multifaceted presentation of the conflict, both on the front lines and on the homefront, Caputo has produced what is at once an overview and a sensitive, resonant picture of the war as seen and experienced by American soldiers, the Viet Cong, North Vietnamese guerrillas, and the citizens of both South Vietnam and the United States." —School Library Journal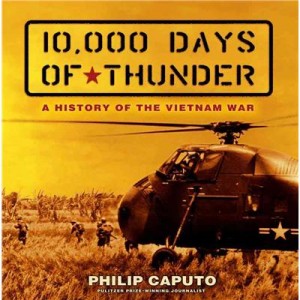 It was the war that lasted ten thousand days. The war that inspired scores of songs. The war that sparked dozens of riots. And in this stirring chronicle, Pulitzer Prize- winning journalist Philip Caputo writes about our country's most controversial war—the Vietnam War—for young readers. From the first stirrings of unrest in Vietnam under French colonial rule, to American intervention, to the battle at Hamburger Hill, to the Tet Offensive, to the fall of Saigon, 10,000 Days of Thunder explores the war that changed the lives of a generation of Americans and that still reverberates with us today.
Included within 10,000 Days of Thunder are personal anecdotes from soldiers and civilians, as well as profiles and accounts of the actions of many historical luminaries, both American and Vietnamese, involved in the Vietnam War, such as Richard M. Nixon, General William C. Westmoreland, Ho Chi Minh, Joe Galloway, Dr. Martin Luther King Jr., Lyndon B. Johnson, and General Vo Nguyen Giap. Caputo also explores the rise of Communism in Vietnam, the roles that women played on the battlefield, the antiwar movement at home, the participation of Vietnamese villagers in the war, as well as the far-reaching impact of the war's aftermath.
Caputo's dynamic narrative is highlighted by stunning photographs and key campaign and battlefield maps, making 10,000 Days of Thunder THE consummate book on the Vietnam War for kids.
Praise
From School Library Journal
Starred Review. Grade 5 Up • In this truly multifaceted presentation of the conflict, both on the front lines and on the homefront, Caputo has produced what is at once an overview and a sensitive, resonant picture of the war as seen and experienced by American soldiers, the Viet Cong, North Vietnamese guerrillas, and the citizens of both South Vietnam and the United States. Covering the period from the rise of Bolshevism in Russia in the early 20th century to the American normalization of relations with Vietnam in 1995, it's an ideal source for both information and understanding. Beginning with an affecting introduction, the author then gives a history of communism and the origins of the war. Following this, the American involvement in Vietnam is traced in numerous two- to four-page sections dealing with various aspects of the conflict, such as the Viet Cong, the Ho Chi Minh Trail and the DMZ, and the draft. Each section has a quick facts box that highlights the main issues surrounding each topic. Caputo's prose is clear and direct, and the award-winning photos, both black and white and color, add an immediacy that sets this title apart from more conventional treatments. The glossary is detailed and informative, and the bibliography is a veritable gold mine of sound sources. This is the book of choice for libraries serving today's students.
Buy the book
10,000 Days of Thunder: A History of the Vietnam War
Back to more Phil Caputo general nonfiction »